By
Angus Taylor
Errol Dunkley

has a cold. He sounds audibly hoarse. As a result he doesn't want to do any other interviews before his set at Garance 2014 apart from ours. We offer to postpone until after the show. "I'm cool" he assuages between coughs "I can sing".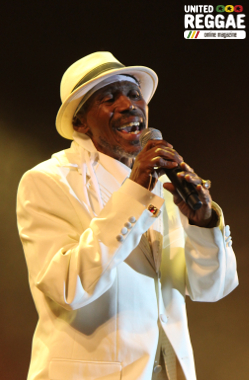 As the French crowd will discover later

Errol Dunkley

is an artist with a unique voice. Even Jamaica's very elite including

Dunkley

's old colleague and business partner

Gregory Isaacs

had forebears - "the original Mr cool ruler"

Jackie Edwards

- and some imitators. Yet who could copy

Errol

's bewitching midnight peel – like a brandy laced with honey – all fruitiness, graininess, mystery and hush? As the man sang on two killer cuts of the same song about his childhood rivalry with the heavily imitated

Dennis Brown

"every man do his thing a little way different".
Physically,

Errol

is small in stature. And when he first tasted the entertainment industry he was smaller still. As a boy his mother used to stand him on the bar of her Kingston drinking establishment to dance as patrons 'punched' the jukebox. "That's how I used to go and hustle my money. I would dance and people would pay me."



Errol

entered the singing business very young - voicing for

Prince Buster

aged just 11. It wasn't until his late teens when the fast ska beat was decelerating to rocksteady that he had a hit - 1967'sYou're Gonna Need Me for

Joe Gibbs

. "Yeah that's when the music changed" he recalls "Because I came in the music on the tail end of ska. Then the ska changed to rocksteady."

Bunny Lee said 'Listen, they are saying in England that the music too slow. So we are going to have to move up the tempo a bit'

The link who brought

Errol

to

Gibbs

was another budding freelance producer -

Bunny Lee

.

Delroy Wilson

had recently become the island's first child star, over at

Coxsone Dodd

's

Studio 1

.

Gibbs

– recently returned from Cuba - was looking for a youngster to follow in his footsteps. Their resulting session generated a cover of

Barbara Lynn

's You're Gonna Need Me – a caustically confident prediction that the little boy's love will realize her mistake and return. The following year Gibbs released two further successes with similar melodies - the scathing Please Stop Your Lying and the wistful, more positive I'm Going Home.
By 1968 rocksteady was giving way to a new beat in town – the reggae. As someone around the studios

Errol

must have an insider's perspective on who created reggae first?
"The reggae beat was like this" is his response "we were doing rocksteady and people like

Bunny Lee

and those guys were going to England taking over material and licensing to

Trojan

,

Creole Records

and many other record companies. But they said the music was kind of too slow so

Bunny Lee

came back to Jamaica and said 'Listen, they are saying in England that the music too slow and they are calling it reggae. So we are going to have to move up the tempo a bit'".
So would he say

Bunny Lee

invented the fresh sound? Bangarang by

Stranger Cole

and

Lester Sterling

is the first reggae? Not

Larry Marshall

's Nanny Goat at

Studio 1

? Or Say What You're Saying by

Monty Morris

for

Clancy Eccles

?
"No" he laughs "I can't say for sure but I remember

Bunny Lee

coming from England and saying 'Our music, they are calling it reggae!'"
Errol

fell out with

Joe Gibbs

and in 1969 switched to

Studio 1 Records

– 13 Brentford Road – home of original juvenile sensation

Delroy

. However, the magic of "The Jamaican Motown" didn't work for

Errol

. "Yeah because

Leroy Sibbles

took me to Studio 1 but I never had any success with

Studio 1

. I just did a ton load of songs that never went anywhere!"

Gregory and I were in the street, trying to make a name

During that period he had struck up a friendship with a fellow emerging singer who possessed a haunting seductive voice –

Gregory

.
"

Gregory

and I were in the street, trying to make a name, singing for various producers.

Gregory

was with

Rupie Edwards

at the time and I was freelancing, singing for every promoter and every producer."
It was

Gregory

who took

Errol

to

Edwards

– resulting in a popular "3 in 1" medley of You're Gonna Need Me, Please Stop Your Lying and I'm Going Home sandwiched on a reggae rhythm.
Gregory

and

Errol

decided they should partner for their own label – African Museum – which yielded one of the latter's enduring favourites, an adaptation of

Delroy Wilson

's I Don't Know Why entitled Movie Star.
"We had Movie Star, Look Before You Leap, My Only Lover and that was the beginning of the thing."
But

Errol

never sat still recording in any place for long. In West Kingston he met the one-legged, politically connected producer

Jimmy Radway

.

Radway

had penned a lyric with a similar theme to Movie Star –

Black Cinderella

.
"At the time I was working with

Gregory

and

Jimmy

had some songs that he had written. But his writing was like writing poems – it wasn't like writing songs. Because you know a song is different from writing a poem. You have to write a song to keys and bars – four beats to the bar. Four bars make one verse. Eight bars make two verses. So we had to show

Jimmy

that a song is different from a poem. I converted the Cinderella. I wrote new lines to it to get the measures right."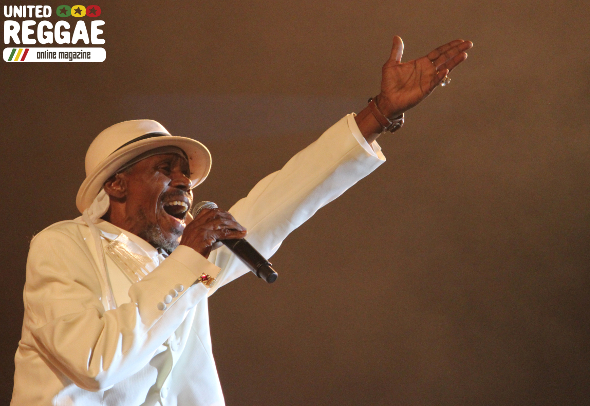 Once amended

Cinderella

was transformed into a princess.

Errol

's nocturnal timbre felt perfectly suited to

Radway

's dark and moody backings and the single became another hit. Unfortunately he and

Jimmy

quarrelled before they could record the next composition Hell and Sorrow ("Because

Jimmy

and I fall down.

Jimmy

and I fell out and that was it"). Alton Ellis' sister Hortense stepped in to do it instead.
Errol

would soon start producing artists himself. In the process he helped future dancehall king

Gussie Clarke

get a start in the craft when he gave the 18 year old his first rhythm in return for an amp.
"Yeah,

Gussie Clarke

. I remember I bought out

Gussie Clarke

's sound system when he wanted to come in the music business. I bought out his sound and I licensed two riddims to him which he had

Big Youth

on. "A

Mr Tippa

Make You Rock So" – that was a song I produced with an artist but it wasn't big and it never got anywhere so I gave

Gussie Clarke

a cut from that rhythm."
Errol

then makes a bold claim regarding

Gussie

's biggest early album that stops us in our tracks. "I produced the Screaming Target for him with

Big Youth

. Which he never gave me no credit for." He laughs "But that's how it goes."
Errol

was going places anyway. He hopped on a plane to London.

Jimmy had some songs. But his writing was like writing poems – it wasn't like writing songs

"I had a contract to go to England in the 70s and started working for

Shelly Recording

company and did a ton load of songs."
One of the London recordings was a recut of a track sung seven years earlier for pioneering female producer

Sonia Pottinger

. Its name was Little Way Different and it had been written in response to comparisons to

Dennis Brown

, the child crooner who followed

Errol

like he did

Delroy

. The update was anchored by

Bajan

born Londoner often credited as popularising Lovers Rock –

Dennis Bovell

.

Bovell

's dubby stalking backdrop with its twinkling submarine sonar keyboards made the obscurity into a smash (although

Pottinger

's original is arguably as good).
"Little Way Different was a track I did from my first album" is

Dunkley

's assessment "I went to England and I met

Matumbi

and

Dennis Bovell

and he said this was an

Errol Dunkley

he liked from the first time he heard the album from Jamaica so he decided to do it again. It was a major success. Because when I first did it, it was just a track on an album."
By now

Errol

had conquered the UK and JA reggae charts. But when he returned to JA in 1979 he would taste international fame with his biggest ever seller – a chirpy cover of the late

John Holt

's OK Fred. "I went back home after the thing, did recording with

Sly and Robbie

– and that's when I found the OK Fred".
Although OK Fred got released by

Ossie Hibbert

it was in fact one of many

Dunkley

self-productions leased out to another imprint. Earlier in his career Darling Ooh was licensed to

Rupie Edwards

and You'll Never Know to Mrs

Pottinger

. "True, true. All these songs are mine. So much songs."
Vitally, he learned to register his music with the PRS and keeps a firm hand on his publishing.
"Right now I've got my own publisher which is

Paul Rodriguez

Music in England and they deal with my publishing. They're a good publishing company and I've been working with them for years."
OK Fred

solicited an appearance on Top of The Pops and was huge in France. Yet

Errol

hasn't experienced French audiences often.
"

I love France. I had a contract with a company in France – Celluloid – Blue Moon? So I used to come to France but I never did any live shows. It was just paper interviews, radio interviews, TV interviews, but I never did any live performance".
As time is running out we stop talking about the old days.

Errol

has been recording for Reading, England's

Reality Shock Records

. In 2013 they redid his 1983 12" You've Been Bad as a joint release with Reality Chant from New Zealand. "

Reality Shock

they decided to release some of my original products and I gave them the rights to do that. And it's going fine. I've got an album with

Reality Shock

– I've got a cut of it."
He's also had a strong influence on the younger wave of roots artists in Jamaica.

Protoje

sampledBlack Cinderella bringing

Dunkley

to the next generation of reggae fans.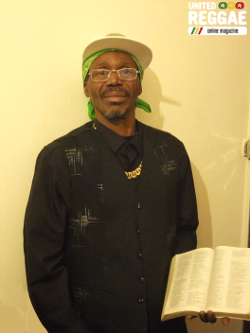 "That's right. Plus

Mr Vegas

did over my You're Gonna Need Me."
And when he's finished touring he has an exciting new project in the works – with a very special duo.
"At the moment I'm touring the world because the world hasn't seen me yet. And I've got a new album I'm working on at the moment. I should complete this album later this year - with

Sly and Robbie

".
Before we go, a slightly controversial question. In 1977 he recorded the 45 True To Your Man for

John Dread Records

. In it he tells his woman "You should stay at home and mind the baby". Ever since You're Gonna Need Me and Please Stop Your Lying

Errol

has been forthright when addressing the ladies - did he catch any flak from feminists for saying that?
Errol

laughs a wheezy laugh "This song is of experience. It's a true song. People will say I'm like a… what they call it? A man who is sceptic of woman?"
"
But I'm not really like that." He continues with a smile "But the song profiled me like that so I just work with it!"